If you are a new student in Dublin you will have to register yourself at the Registration Office in Dublin in order to get your GNIB card.
You can book an appointment before you leave your country but you have to book minimum 3 or 4 weeks after your arrival date so you will have time to get your bank account open and also all documentation you will need from the school.
If you live in Dublin City or county, you must book an appointment online to register at Burgh Quay Registration Office in Dublin City. Do not go to the office without an appointment as you cannot be seen.
If you live outside Dublin City or county, register at the regional registration office nearest to where you live (http://www.inis.gov.ie/en/INIS/Pages/registration-offices). Do not book an online appointment if you live outside Dublin City or county.
Burgh Quay Immigration Registration Office (for Dublin only)
Burgh Quay Registration Office
Irish Naturalisation and Immigration Service
Department of Justice and Equality
13-14 Burgh Quay
Dublin 2
Ireland
D02 XK70
Monday to Thursday: 8am to 9pm
Friday: 8am to 6pm
Saturday, Sunday & public/bank holidays: Closed
6 min walking from Spire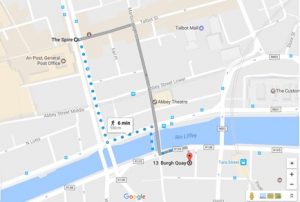 How the appointment system works
Types of appointment
You can make an appointment to:
Register for the first time
Renew your existing registration
Replace a lost or stolen Certificate of Registration (GNIB card)
When to book
Book your appointment up to 10 weeks in advance.
A small number of emergency appointments are released every day at 2:30pm.
If you need an appointment within the next 2-3 weeks, check the website at 2:30pm every day until you find one. You are likely to book an appointment within 2-4 days.
Cancellations
Always cancel your appointment if you cannot attend.
If you do not cancel, you less likely to find an emergency appointment when you need one.
1st Step – Go to https://burghquayregistrationoffice.inis.gov.ie/ and click in Make Appointment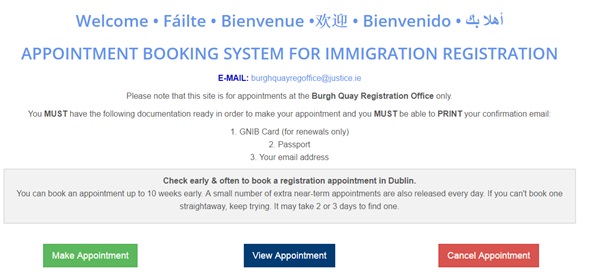 2nd Step – Filling in the form
Select Study in Category field

Select English Language Course in Sub Category

Select No in I have a GNIB card or I have been registered before field if you are a NEW student

And then click in I confirm that all of the above statements are true.

Fill in your FIRST name in Given name field and LAST NAME in Surname

Fill in your Date of Birth, Nationality, Email, Confirm email.

Select No in Is this a family application? field

Select Yes in Do you have a Passport or Travel Document? and fill in your passport number below.

Click in Look for Appointment and choose which option suit best for you.

Specific Date: You will pick the best date for you according to the dates available.

Closest to Today: The system will show the closet date available to today according to the dates available.

If there are no appointments currently available you will need to keep trying until you find one.

Contact us if you have any question.